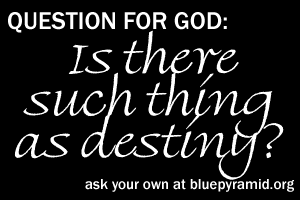 Ask Questions for God
at the Blue Pyramid.
In order to answer this question we first must have a working defination of destiny.
WorldReference.com
defines destiny as:
an event (or a course of events) that will inevitably happen in the future.
I think the key word is
inevitably
.
I believe that there are some things which will inevitably happen. Number 1 on that list is that Jesus will return and life as we know it will end. There is nothing we can do to stop this from happening.
When it comes to our personal lives I am skepitcal about destiny. Aside from our deaths and judgment I don't think there is anything that will inevitably happen to us, no matter what we do. I believe much of it depends on the choices we make.
It is true that God has a plan for our lives.
For we are God's masterpiece. He has created us anew in Christ Jesus, so that we can do the good things he

planned for us

long ago (Ephesians 2:10, NLT; emphasis mine).

"For I know

the plans I have for you

," says the LORD. "They are plans for good and not disaster, to give you a future and a hope" (Jeremiah 29:11, NLT; emphasis mine).
God created us for a reason. There is a certain way He wants us to live our lives and certain tasks that He wants us to accomplish. He designed us to do them.
While there is a Divine plan behind our lives, God has given us the choice to do what we want to do. This means we can choice to ignore God's plan and not do what He asks us to do. The result is that what God planned for us to do will remain undone. There is only one Paul Steele and if fail to do what God has called me to do no one else will do it. I alone have the experience, the talents, and the influence needed to accomplish it. The same is true for you. God's plan for our lives is not inevitable, it depends very much on the choices we make.
The cool thing about this is that we can spend our lives running away from God and doing our own thing, but when turn to God in repentance there are still tasks He wants us to accomplish. God can use the evil and negative experiences in our lives for good. God can do more in one year with a life that is totally surrendered to Him than in 20 years of uncommitted service.
I would say there is no destiny, but when we move with God we have all the power of God moving behind us to do what needs to be done. God is at work in the world and when we join Him in that work it will often feel like we are living out our destiny.